My grandpa would be happy if he knew this, I am teaching the calligraphy in the Imperial college-Guozijian from 2013. It is important to the Chinese kids if they can write the calligraphy, one of the Chinese traditional cultures. but it is difficult nowdays, they'd rather play the iPad or smartphone after school.  Let me say this way, to use and write the Chinese characters, write the calligraphy at the same time, is the short-cut to explore the Chinese culture. and one will know and understand more about the core of the culture. especially when you can read and understand the meaning behind the characters.
Please check the Chinese introduction of my calligraphy class as below.
    成贤国学馆国学书法课程,是以讲解书法技法为手段,分析文字起源与字义,在其中探求和认知中国传统文化的博大精深,并在具有700多年皇家古建筑内,于荫荫翠柏之间感受这一艺术的悠远魅力。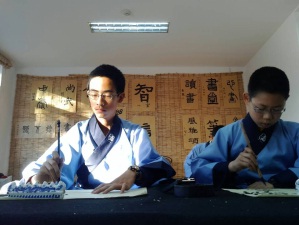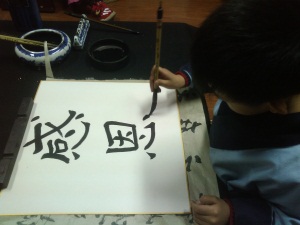 【学习国学书法的益处】
•  传承书法神韵,融通国学经典
• 了解文字之美,提高思维能力
•  塑造完整人格,突出个性发展
•  陶冶人之性情,提升人之气质
【学习内容】
• 了解文字构成原理与字体演变
• 掌握不同书体结构与笔法
• 了解经典书法典故
• 经典书法作品赏析
• 临摹、创作
【书体内容】
甲骨文、金文、小篆、隶书、魏碑、楷书
报名咨询电话:010-64021699
官方微信:孔庙国子监成贤国学馆
官方网站:http://www.chengxiangxg.com
官方微博:http://weibo.com/chengxiangxg
地址:北京市东城区国子监街15号,孔庙和国子监博物馆内
Share the post "I'm teaching the Chinese calligraphy(少儿国学书法) in the Guozijian-the Imperial college"
Tags: Calligraphy/中国书法, Calligraphy/中国书法, guozijian, 书法, 国子监, 国学, 少儿国学书法